All of our rooms here at East Bedlington Community Centre are available to hire and we pride ourselves on being an affordable facility for all the community.  From exercise classes to wedding receptions, we can help!  Perhaps you need a room for a private meeting, or want to start a new activity club?  Maybe you're looking for the perfect party venue.  Here you will find all the information you need about hiring one of our rooms.  Want to chat to us about your booking?  Get in touch via the Contact Us page and we'll get back to you as quickly as we can.
For all bookings we require a completed and signed Room Hire Form –  please email us at eastbedlingtoncommunitycentre@gmail.com for more details.
The Bayard Room
A multi-purpose space located on the ground floor.  Perfectly suited to meetings, social activities, classes and community events.  Fitted with fixed display screen, WiFi and direct access to shared kitchen facilities.
Seats 40 Cabaret style.  Approximate floor space 86m².
Room hire:  from £12 an hour.
The Ticket Office
A space suitable for small meetings, 1:1 sessions, interviews, information and advice surgeries, training sessions, IT tuition, trustees meetings etc.  The room is fitted with modular furniture, a wall mounted fixed display screen and WiFi.
Seats a maximum of 10 people.
Room hire:  from £11 an hour.
The Sidings
A multi-use space located on the ground floor, perfectly suited to arts and crafts, keep fit, indoor bowls, meetings, dance and youth activities.  The room has high levels of natural light from Velux windows in the ceiling.  The Sidings also benefits from a wall mounted fixed display screen and storage lockers for regular centre user groups.
Seats approximately 60 theatre style, 40 cabaret style or a party space for up to 30 children.  Room dimensions are 16.5m x 4.3 – approximate floor space 73m².
Room hire from £12 an hour.
Platform 1
Our fabulous, multi-use space has been carefully restored to showcase some of the building's original features including the ceiling support beams.  The room benefits from a large dance floor, large stage area, in-house lighting, 4m cinema screen and projector and sound system, feature windows and is fully DDA compliant being accessible by lift, as well as having a platform lift onto the stage.  Perfectly suited to larger events such as theatre, pantomime, dance, seminars, craft fairs, presentations, public meetings, social events, weddings and birthday parties.  Fitted with WiFi.
Seats 130 theatre style, 72 banquet style, 100 cabaret style and many other options available depending on requirements.  Approximate floor space 100m².
Room hire:  from £20 per hour  Monday to Friday –  £25 per hour Saturday & Sunday.
Platform 2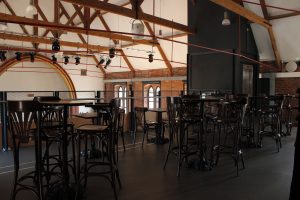 Mezzanine level space fitted with retractable seating for 40 people.  Can be used as a general space suitable for 48 people cabaret style.  Can be booked in conjunction with Platform 1.  Maximum occupancy 60 people.
Room hire:  from £12 an hour
The Buffet Car
Our sumptuous licensed community café, serving up a range of hot drinks, biscuits, snacks and alcoholic drinks in relaxed surroundings.  Board games, cards and newspapers are available to customers free of charge.  Licensed from 11am, the bar offers a selection of bottled beers and lagers, wine by the glass/bottle, spirits and soft drinks.
The Cafe is open on Tuesdays from 10am until 2pm.
The Buffet Car can be booked for private parties and in conjunction with Platform 1.
Room hire:  from £20 an hour Monday – Thursday  and £25 Saturday & Sunday (subject to a minimum booking of 4 hours).